Do More
with the Interactive Brokers
Debit Mastercard®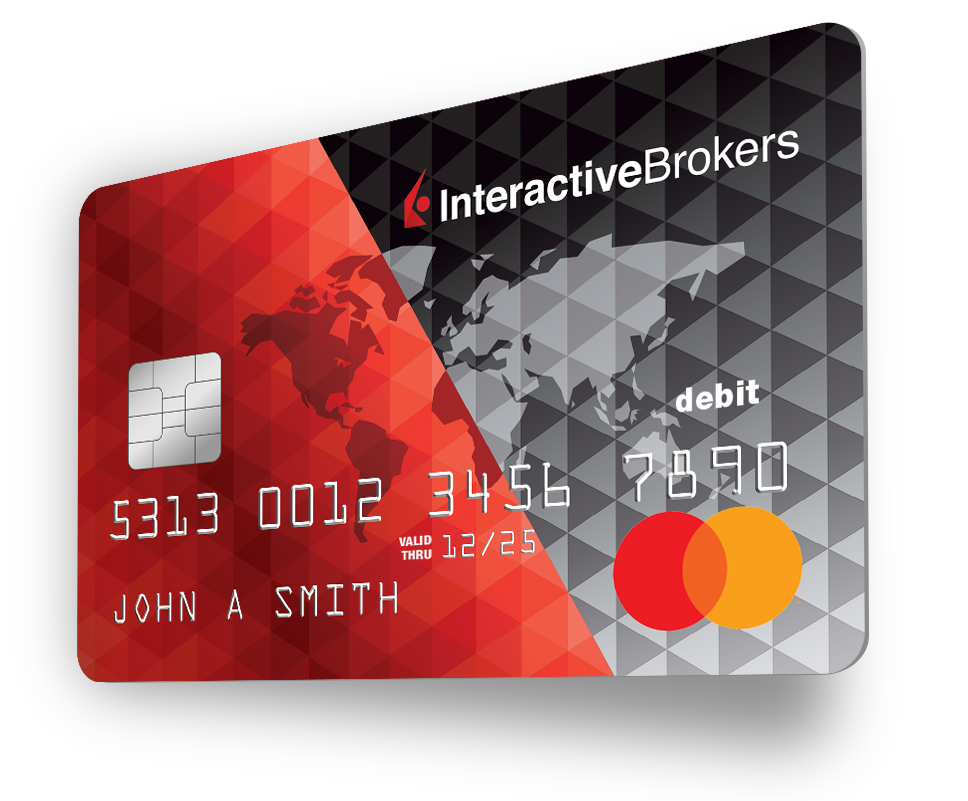 Low Borrowing Costs
Automatically borrow against your account at USD 1.59% or less1, which is lower than credit cards, personal loans or home equity lines of credit, without monthly minimum payments or late fees.2 There are no monthly minimum payments or late fees, so you have the flexibility to pay back loans at your own pace. In addition, you can use the Debit Mastercard at ATMs to withdraw a maximum of $1,000 per day.
Integrated with Your Account
Cash management is integrated into your broker account. This means that you can always borrow at the lowest rates without having to worry about first transferring cash.
Adding an Interactive Brokers Debit Mastercard to your account is quick and easy and provides you with the convenience of accessing your account funds anywhere Debit Mastercard is accepted around the world. Simply log in to your account and click the Transfer & Pay > Debit Card menu item or request the card during the account application process.
In addition, advisors and brokers on the IBKR platform can let their clients request the Interactive Brokers Debit Mastercard through Client Portal, and trustees (who are also beneficiaries) are eligible for the program.
Safety and Security
Our IBKR Mobile app uses two-factor authentication to provide added safety and security to the Debit Mastercard. Use the app to authorize transactions, pre-authorize large purchases and lock or unlock your card. In addition, the Debit Mastercard can be added to Android Pay, Apple Pay or Samsung Pay for contactless purchases using your mobile device. Click and icon to download a mobile payment solution.
Additional Debit Mastercard Benefits:
---
PEACE OF MIND
Zero Liability

Mastercard ID Theft Protection

Extended Warranty

Price Protection

Satisfaction Guarantee
PREFERENTIAL ACCESS
Priceless Offers & Experiences
TRAVEL
Mastercard Airport Concierge*

Mastercard Travel Services
MASTERCARD GLOBAL SERVICE
Emergency Card Replacement

Emergency Cash Advance

Lost/Stolen Card Reporting
For complete information visit mycardbenefits.com or call Mastercard at 1-800-MASTERCARD
*Cardholder fees may apply
Calculate Your Approximate Interactive Brokers Spending Limit
For Your Assets Held at IBKR.
Enter values below in whole US dollars to see your approximate spending limit.
Portfolio Margin accounts require $100,000 minimum balance. For non-Portfolio Margin accounts, choose the Reg-T margin rates button below.
To see your exact limit for your specific portfolio, open a Free Trial account. This will allow you to log into Trader Workstation (TWS), add the positions in your current portfolio, and view your current available margin.
Note: Mutual Funds must be fully-paid for a period of 30 days after purchase in order to be used as margin collateral.
The interest calculator is based on information that we believe to be accurate and correct, but neither Interactive Brokers LLC nor its affiliates warrant its accuracy or adequacy and it should not be relied upon as such. Neither Interactive Brokers nor its affiliates are responsible for any errors or omissions or for results obtained from the use of this calculator.
For IBKR clients:
Apply for a Debit Card
Want to become an IBKR client?
Open an Account
Margin borrowing is only for experienced investors with high risk tolerance.
You may lose more than your initial investment.
Annual Percentage Rate (APR) on USD margin loan balances for IBKR Pro as of 2/01/2021. Interactive Brokers calculates the interest charged on margin loans using the applicable rates for each interest rate tier listed on its website. For additional information on margin loan rates, see ibkr.com/marginrates .
Rates obtained on 6/10/2021 from Bankrate.com for average HELOC rate, average personal loan rate and average credit card rate from creditcards.com.
Margin loan rates and credit interest rates are subject to change without prior notice.
BY USING THE INTERACTIVE BROKERS DEBIT MASTERCARD YOU AGREE WITH THE TERMS AND CONDITIONS OF THE CARDHOLDER AGREEMENT AND FEE SCHEDULE, IF ANY. This card is issued by Metropolitan Commercial Bank (Member FDIC) pursuant to a license from Mastercard International. Metropolitan Commercial Bank and Metropolitan are registered trademarks of Metropolitan Commercial Bank© 2014.
All interest and borrowing activity is through Interactive Brokers LLC. Please see your customer agreement with Interactive Brokers LLC for further details.
Card program marketed and administered by Interactive Brokers LLC, the Program Manager of the Interactive Brokers Debit Mastercard.
Write us
Find us at the office
Darmofal- Broderick street no. 11, 88736 Vatican City, Vatican City
Give us a ring
Meadow Hipsley
+90 293 316 242
Mon - Fri, 8:00-14:00